Many people do not realize the control exercised by the Chinese Communist Party (CCP) over every facet of their citizens lives. Here is one example of how the CCP utilizes thought control measures to keep the Chinese people from remembering the unrest and subsequent massacre of innocents on June 4, 1989.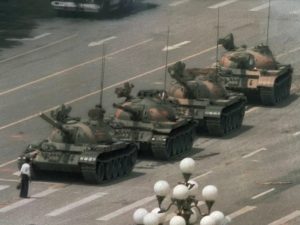 According to the Business Insider in their post 94 Search Terms That China Bans Because Of Tiananmen Square, the following words and phrases have been banned by Chinese Communist Party officials:
Big yellow duck (because an image circulated online showing giant toy ducks replacing military vehicles in the Tank Man photo, the same photo at the top of this post)
Tank Man (a reference to the above photo of a lone protester trying to block tanks)
Shanghai index (a reference to the Shanghai stock market closing down 64.89 points on 2012's anniversary)
63 + 1 (because it adds up to 64, or June 4th)
65-1
Candle (because the candle emoticon is commonly used online to mourn deaths)
Fire
Torch
Oil lamp
Candle flame
Blood
Democracy
Autonomous
Twitter
Memorial event
Mobilize troops
Crush
Crush and destroy
Assemble
Revolt
Open fire
One-party dictatorship
Today
Tomorrow
Yesterday
Tiananmen
Square
Mourn
When spring becomes summer
That year
That day
Special day
Pillar of shame (a reference to sculptures symbolizing those who died in the massacre)
Victoria Park (where some of the sculptures were placed)
Evening event
Silent tribute
Recall
Ceremony
Little secretary
Black shirt
Black clothes
Redress
Commemorate
Demonstrate
Persecute
Conflict
Gunfire
Turmoil
Sensitive
Mothers of the Motherland
Hunger Strike Declaration
Operation Yellowbird
Non-violent non-cooperation
Chinese Spring
Take a walk
Member of standing committee
Gang of Four (Communist leaders)
Political bureau
Protest
Sit-in
Take to the streets
Go into the street
Never forget
Against bureaucratic profiteering (because it's part of a slogan from the Tiananmen protests)
Suppress
Tank
May 35
35
Six Four
64
June
Jun+4
Thirty-five
Twenty-four
Six+four
Six 4
6 four
Liusi (Pinyin for "six four")
Bajiu (Pinyin for "eight nine")
Six four
Eight nine
Eight eight
TAM (abbreviation for Tiananmen)
Jinshuiqiao
Changan Avenue
Muxidi
Gongzhufen
Martial law
Student movement
Student strike
Student federation
Massacre
March
Beijing massacred
###
Additionally, there is a translated Xinhua style guide for other words and phrases banned by the CCP.