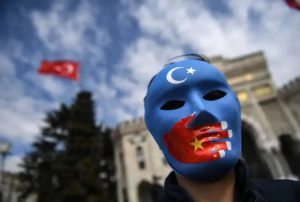 The Chinese Communist Party (CCP) under the leadership of President Xi Jinping is all set to impose more restrictions on religious freedom when the new measures take effect next month, warned a rights group.
The State Administration for Religious Affairs, the top CCP body overseeing religious affairs, announced the new measures on religious affairs on July 31 to be effective from September, ChinaAid reported on Aug. 10.
"The religious freedom of Chinese citizens, including those in Tibet, Xinjiang, and Inner Mongolia, will face further restrictions," said the US-based group run by exiled Chinese Christians.
"All religious activities will be limited to official religious venues, and the display of religious symbols will be restricted indoors," it added.
The new rules–Measures on the Administration of Religious Activity Venues– severely restrain the establishment and registration procedures for venues. But the measures also set forth management rules and stipulations for managing personnel.
The regulations specify the establishment of supervisors for religious activity sites and impose conditional limitations on internal management within these sites.
Though China's Constitution allows freedom of religion or belief, the CCP has been accused of violating the rights of religious groups for decades, though it recognizes five organized religions – Buddhism, Taoism, Islam, Catholicism and Protestantism.
The state runs seven bodies to oversee the affairs of all recognized religions and impose restrictions on groups that are not registered and whose activities are not pre-approved by the state.
Since Xi became China's president, religious groups have faced constant crackdowns under several repressive policies and regulations including sinicization of religions and the 2018 Regulations on Religious Affairs.
ChinaAid alleged that the CCP seeks to assert more control over religions by "suffocating" members of underground religious groups and placing official groups under more restrictions.
"This amounts to a complete ban on religious activities, whatever remains must align with the leadership and political propaganda of the CCP," it warned.
Article 3 of the new measures requires religious activity venues should uphold the leadership of the Communist Party of China.
Those at the activities must uphold the socialist system and adhere to Sinicization. Managing personnel will be expected to implement Xi Jinping Thoughts on Socialism
Article 16 of the Measures states that places of religious activity shall not be named after churches, sects, or persons.
Article 27 stipulates that members of the management organization of venues should possess the qualities of "loving the motherland and supporting the leadership of the Communist Party of China and the socialist system."
—more—